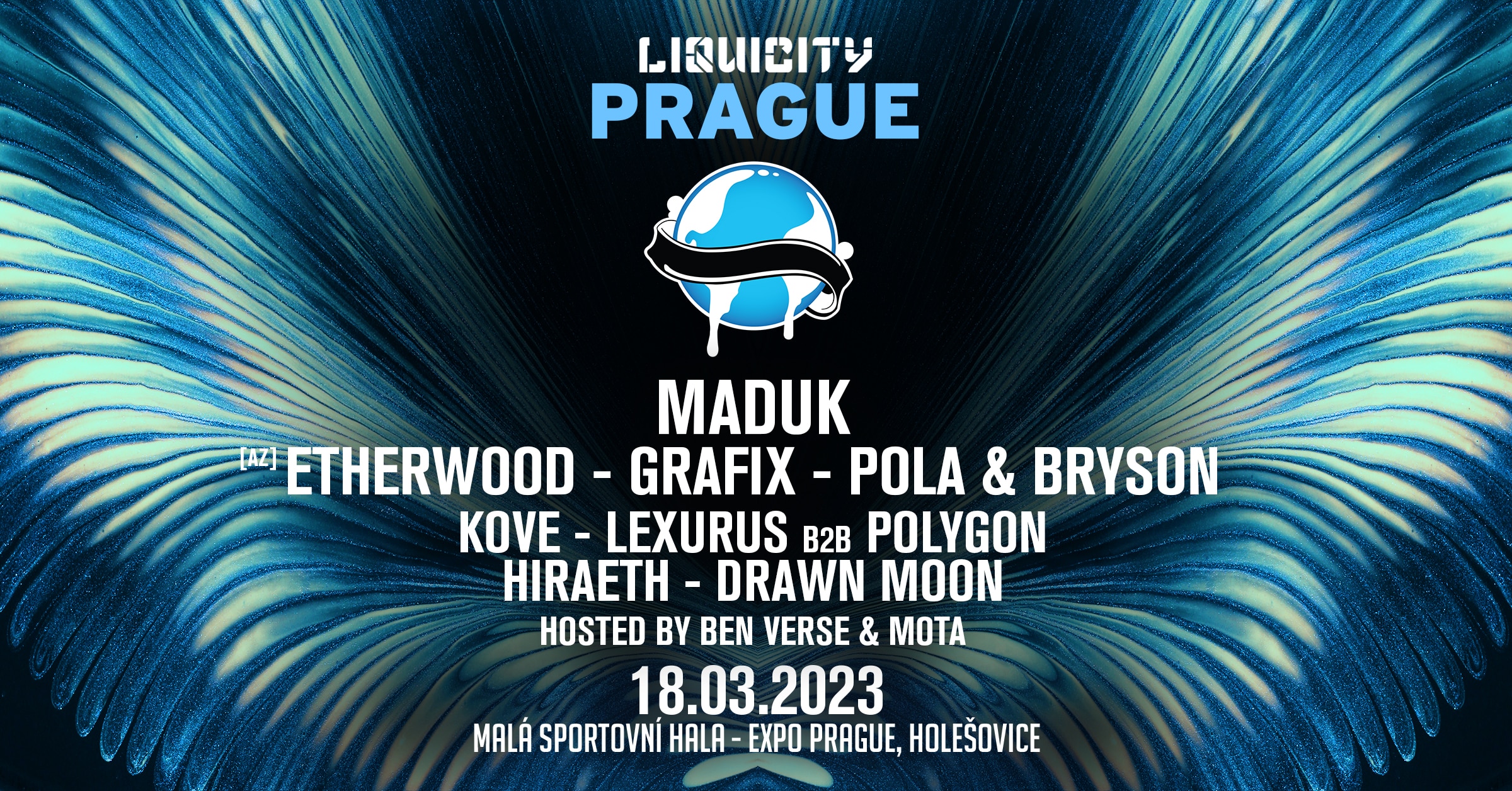 Liquicity Prague 2023
MALÁ SPORTOVNÍ HALA, VÝSTAVIŠTĚ PRAHA, HOLEŠOVICE
Za Elektrárnou 170 00, 170 00 Praha 7-Bubeneč, Prague
Prague.. Liquicity returns this March 18th for another musical journey through the magical land of drum&bass ✨ Will you be there?
Tickets are on sale NOW 🚀

🎧 Line-Up:
Maduk
Etherwood – Grafix
Pola & Bryson
Kove – Lexurus b2b Polygon
Hiraeth – Drawn Moon
✨ Timetable:
20:00 – 21:30 Drawn Moon
21:30 – 23:00 Hiraeth
23:00 – 00:00 Etherwood
00:00 – 01:00 Pola & Bryson
01:00 – 02:15 Maduk
02:15 – 03:30 Grafix
03:30 – 04:30 Kove
04:30 – 06:00 Polygon b2b Lexurus

⏰ Time: 20:00 – 06:00
🔞 Age: 18+
ℹ️ Important information
🎫 Limited doorsale tickets will be available at the entrance at the price of 900 CZK / €42.
📱 You don't need to print your ticket; we can scan it from your phone.
🔞 This is an 18+ event. Please make sure you bring a valid ID.
🚪 Doors don't close; you can enter at any time but it is not possible to re-enter. In = in & out = out!
👕 Cloakroom in the foyer for 50 CZK per piece and 70 CZK per backpack. Limited lockers are available for 250 CZK per night + 100 CZK key deposit.
🍹 There will be enough bars with alcoholic and non-alcoholic drinks and a food stall will be located in the outside area (cash & card).
🚭 Smoking inside the hall is forbidden! An outdoor area near the chill out zone and the outside zone on the first floor is reserved for this purpose.
🌱 To save the environment from tons of waste, we are once again introducing back-up cups. The deposit for one cup will be 70 CZK. When purchasing another drink, each cup will be replaced with a clean one. Cups can be returned at bars.
🔊 Liquicity Prague 2023 will be equipped with a professional L-Acoustics Sound System. Music can be loud, so protect your ears. Quality earplugs are available at the merchandise stand.
⛔️ Don't bring any of the following items: drugs, weapons, liquids, deodorants, writing equipment (markers, pens, fineliners, pencils etc.), food, perfumes, spray canisters, stickers, tape etc.
ℹ️ The Hard and Smart Program will be in charge of your party safety at the event. If you don't know them yet, you can step by when you feel like the party is getting too much!
📍 The fastest way to get to Výstaviště Holešovice is by metro and tram. The nearest metro station is "Nádraží Holešovice" on line "C" (red). Parking is possible in the Exhibition Center for a fee for the whole night, or in mixed parking zones in the nearby neighborhood.