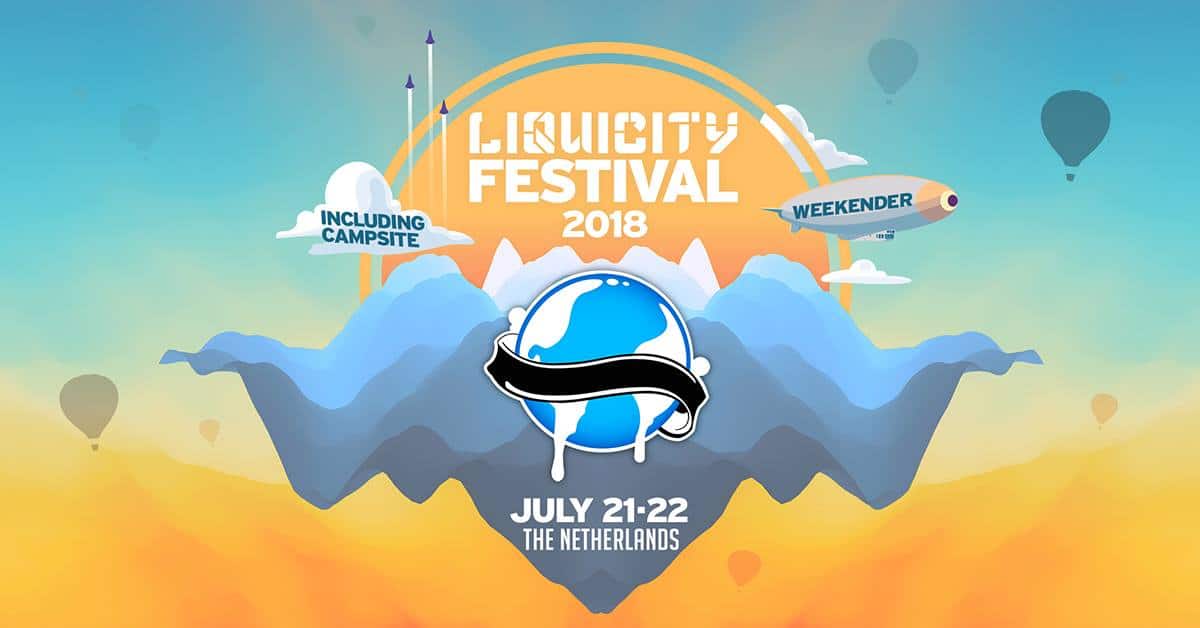 Liquicity Festival 2018
Thank you for an amazing weekend!
 See you next year, limited early bird ticket code registration open now:
https://www.facebook.com/events/501558583598780/
Address: Wagenweg 16 Oudkarspel !!!
Age: 18+

Tickets, Travel & Accommodation packages: festival.liquicity.com

For questions: https://www.facebook.com/groups/1877301049217932/
Line up:
NOISIA – CAMO & KROOKED – WILKINSON
BCEE – BENNY PAGE – CALIBRE – DANNY BYRD – ETHERWOOD – FABIO & GROOVERIDER – FEINT – FOX STEVENSON – HYBRID MINDS – JOHN B – KEENO – KOVEN – LSB – MADUK – MUZZY – NU:TONE – SEBA – SERUM – TANTRUM DESIRE – TC – TECHNIMATIC – THE PROTOTYPES – TOTAL SCIENCE
1991 – ARTIFICIAL INTELLIGENCE – BLUE MARBLE – BOXPLOT – B COMPLEX – DAN DAKOTA – DUALISTIC – DOSSA & LOCUZZED – EKKO & SIDETRACK – FLITE – FLIWO – GLXY – L.A.O.S. – MEMTRIX – NCT – POLA & BRYSON – RAISE SPIRIT – RAMESES B – SUBMATIK – T&SUGAH – VEELA – VOICIANS – ARCH ORIGIN – BERT H – ANDROMEDIK – EDLAN – LEXURUS – MADFACE – MONRROE – NELVER – POLYGON – SEKTOR – SILENCE GROOVE – SUBSEQUENT – ZAZU
Aftermovie 2017: https://www.youtube.com/watch?v=xi76hlnpwL0
Liquicity Festival returns! The beautiful 'Geestmerambacht' will once again be transformed into the Galaxy of Dreams. Celebrate Drum & Bass music with people from all over the world!
 Extra festival night added on Friday (Galaxy Stage only)

 Recycled 'hardcup' system for both cups and bottles at the bar, no more plastic waste!

 Shuttlebus stops at campsite entrance

 Commnity aftermovie, submit your own footage!

 More food stands on both campsite and festival site

 More food options, especially vega(n)!

 Added Cider and Coke Zero in the bars

 More coffee desks at the campsite

 Hottubs

 Secret 'Nebula' stage added

 Hammocks

 A part of camping field 3 will be a silent field

 A Bigger Ballpit

 Silent Disco returns, bigger and better!

 Bar and toilets in the Silent Disco area

 Kornuit Rooftop bar is back (without the hip hop music)

 Cashless machines will be in English

 Campsite opens on Friday afternoon

 Trashbags will be handed out at the campsite entrance

 More trashbins on the campsite

 Extra toilet area on camping field 1

 Same toilet cleaners, because we all loved them

 More shade / dry spaces

 More chill spots on the night area

 Planet Earth during the night

 New merchandise

 You can also top up your LIQ balance via your phone online during the event (more info soon)

 Ice cubes available in the camping shop

 Campsite closes on Monday 14:00 instead of 12:00

 Volleybal fields return

 Many, many, many more upgrades and surprises still to come!
See you soon
Liquicity