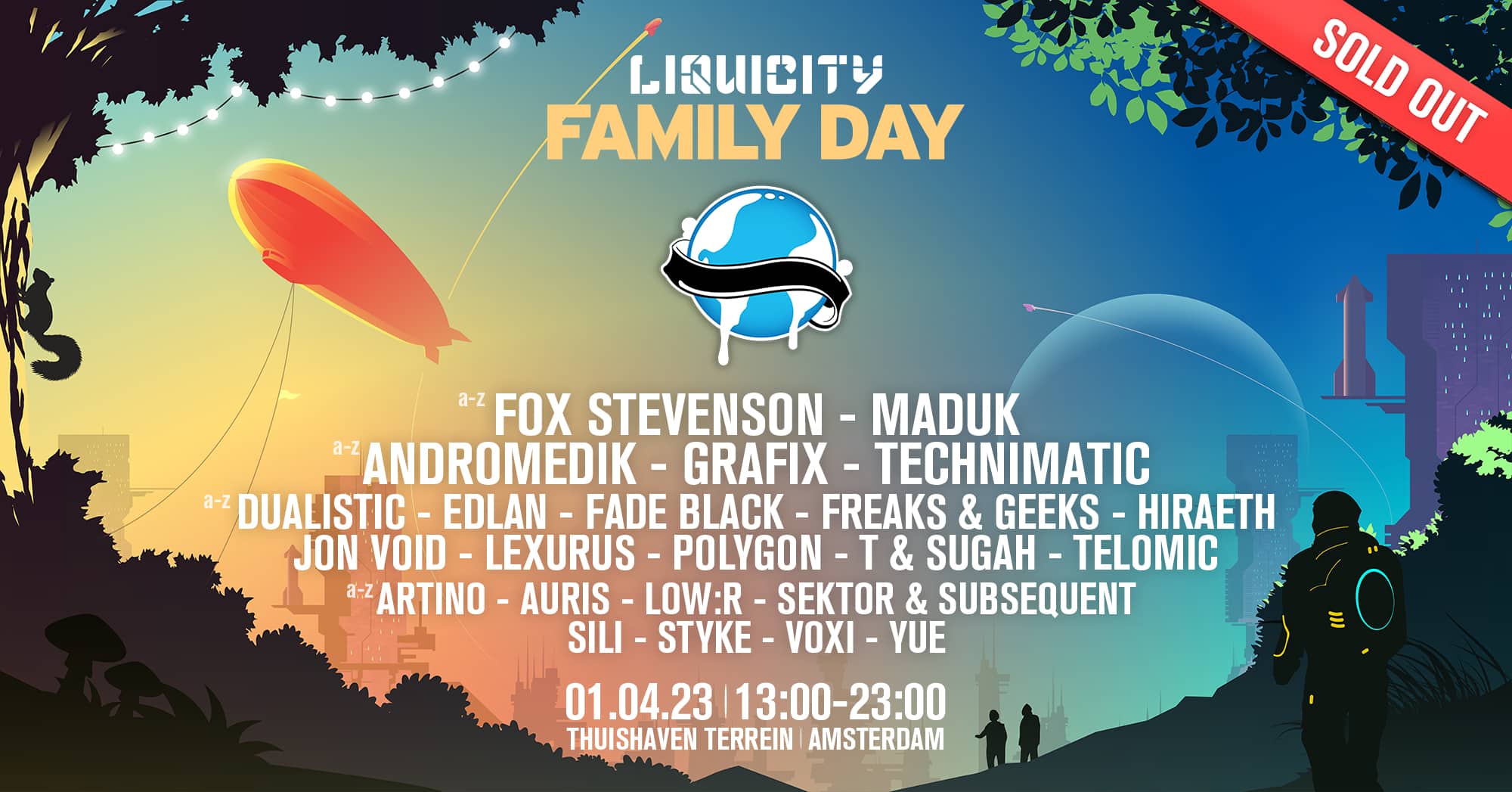 Liquicity Family Day 2023
Contactweg 68, 1014BW Amsterdam, The Netherlands
⏰ Time: 13:00 – 23:00
🔞 Age: 18+
📍Location: Thuishaven Terrein
🔥 This event is completely SOLD OUT. Please beware of scammers and only buy tickets from safe spaces such as Ticketswap.
> Missed out on this one? No problem: see you at Liquicity Festival 2023!
Line-up:
[a-z] Fox Stevenson – Maduk
[a-z] Andromedik – Grafix – Technimatic
[a-z] Dualistic – Edlan – Fade Black – Freaks & Geeks – Hiraeth – Jon Void – Lexurus – Polygon – T & Sugah – Telomic
[a-z] Artino – Auris – Low:r – Sektor & Subsequent – SiLi – Styke – Voxi – Yue
hosted by: Ben Verse – Fava – Mota
________________________________________________________________________________________
IMPORTANT INFO!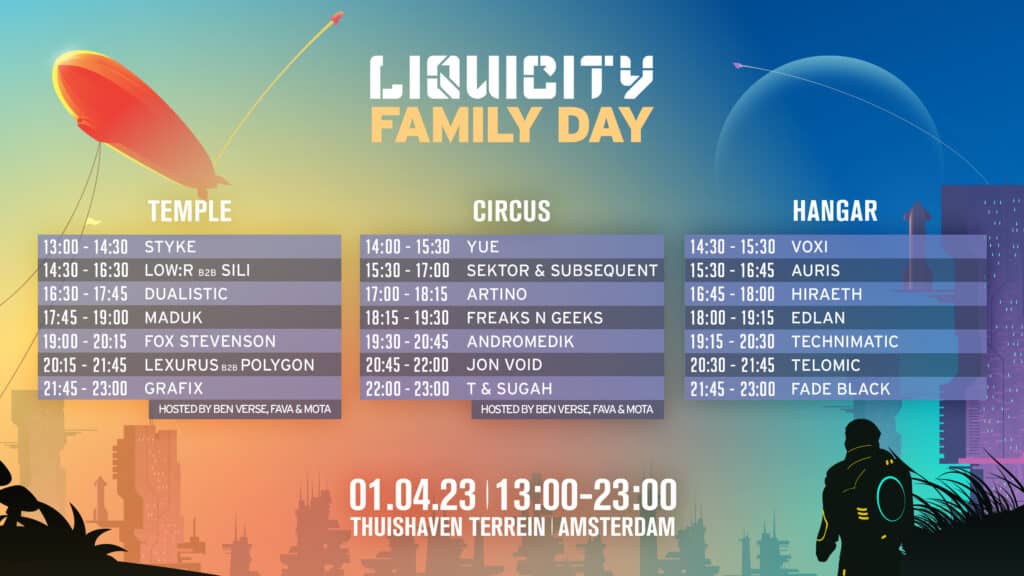 You do not need to print your ticket. We can scan it from your phone.
If you cannot find your ticket, you can easily send it again via this link by providing your email address.
This is an 18+ event. Please make sure you bring a valid ID.
Timetable below.
Lockers can be purchased on-site with a QR code. A large one costs €8 and a small one costs €6. You also pay a €5 deposit that you get back when you return your key.
Doors do not close. You can enter throughout the whole day. In = in, out = out.
All three stages will be located inside, so don't worry in case of rain, you will stay dry
Limited merchandise will be available next to the main stage! Only card/contactess.
Chillout & games area can be found upstairs next to the Hangar stage.
Always take care of your ears! Quality reusable earplugs are available at the merchandise stand.
Bars + food stands only accept tokens. You can get these for 3,60€ on-site at the cash registers next to the bars or the kitchen (card & cash). Free tap water is available in the outside area opposite the dixies.
Smoking is allowed everywhere outside the tents / buildings.
Try not to bring any unnecessary items. This will help speed up entry for everyone and save space in your locker / on the dancefloor.
Use of dixie toilets is free. Regular toilets are 1 token for the whole day.
Don't bring any of the following items: drugs, weapons, liquids, deodorants, writing equipment (markers, pens, fineliners, pencils etc.), food, perfumes, spray canisters, stickers, tape etc.
You can park your bicycle almost in front of the door in the bicycle sheds. Both the metro stop 'Isolatorweg', which is best reached from Amsterdam Sloterdijk train station, and the 'Contactweg' bus stop, which is easily accessible from Amsterdam Sloterdijk station and Amsterdam Central Station, are only a 5-minute walk from the Thuishaven site. Unfortunately, it is not possible to park in front of the Thuishaven site. Please use the surrounding car parks instead.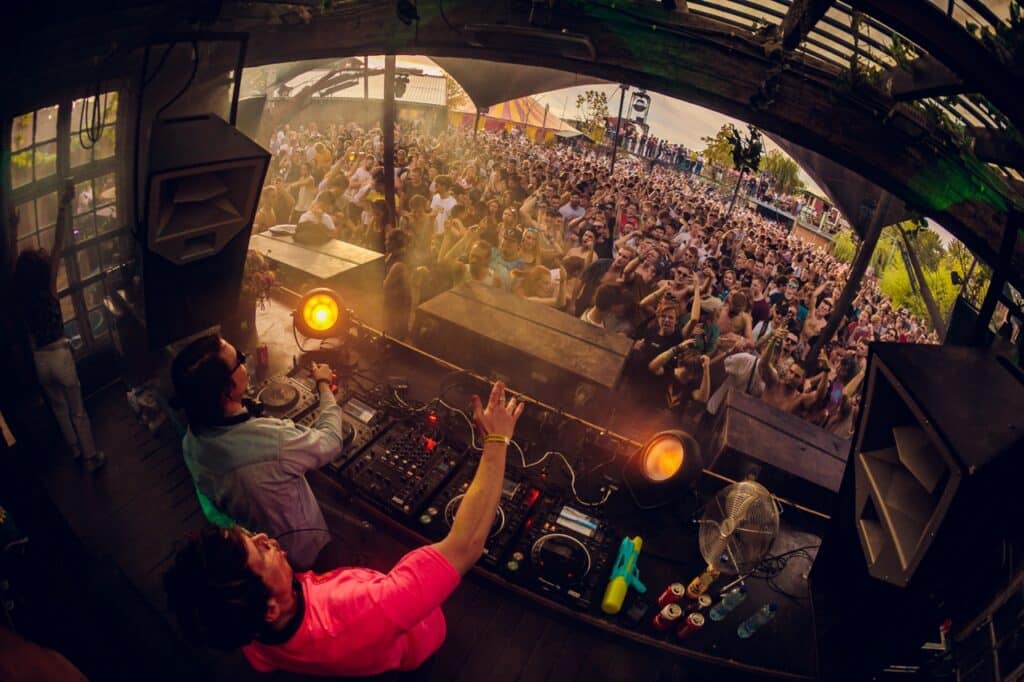 _______________________________
LIQUICITY FAMILY DAY IS BACK
One of the most sought after events is back on the menu after a 3 year break
A special mini day festival where we celebrate the friends and family we've made through drum&bass!
On April 1st 2023, the Liquicity Family finally reunites at Thuishaven, the legendary venue directly at the water in Amsterdam! No doubt this edition will be something unique and out of this world
Tickets are available NOW & they are expected to sell extra quickly! This event has always sold out in advance, so no time to hesitate
See you soon, Liquicity Family!