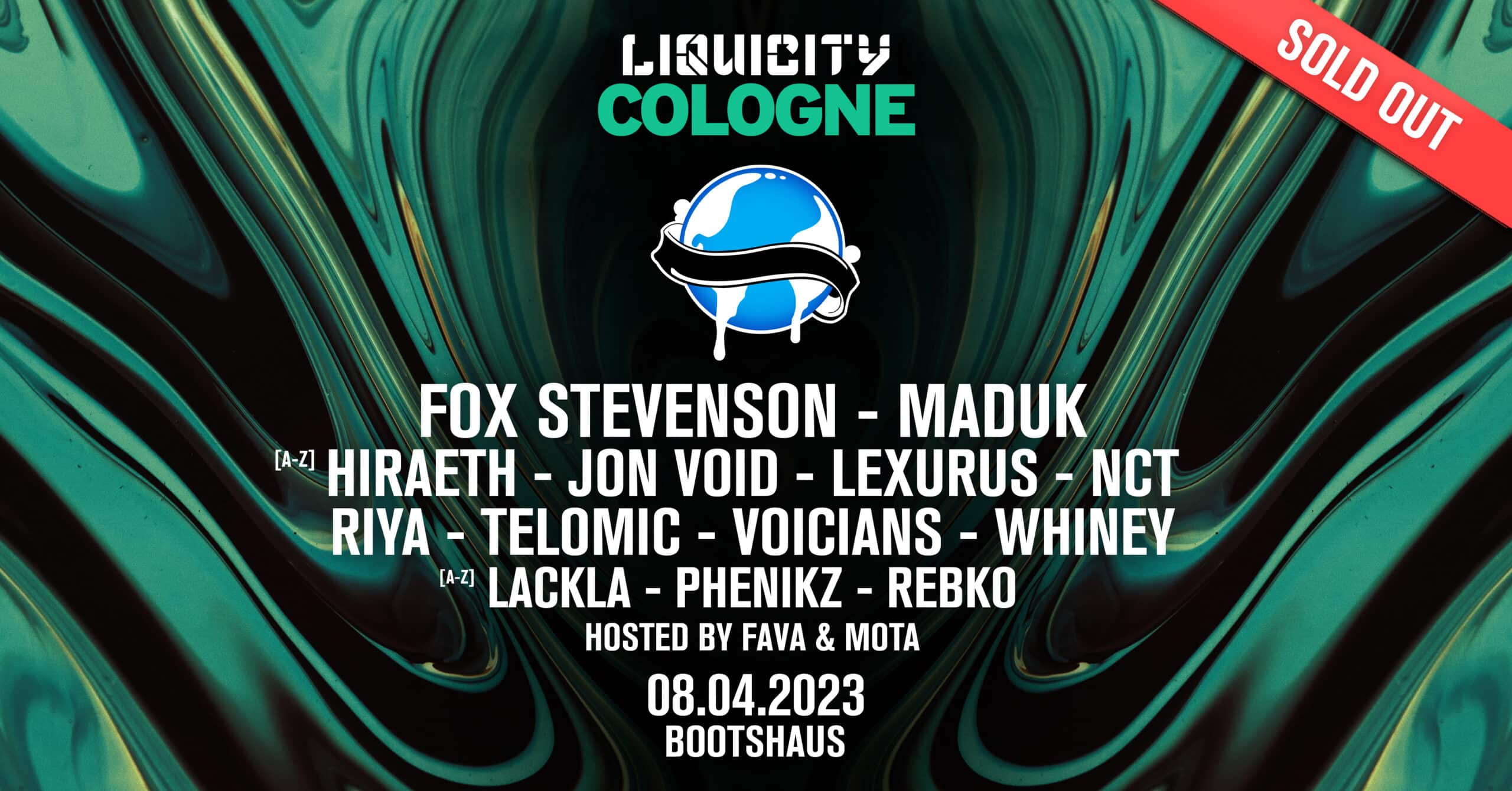 Liquicity Cologne 2023
Auenweg 173, 51063 Cologne, Germany
⏰ Time: 22:00 – 06:00

Location: Bootshaus Cologne
🔞 Age: 18+
🎧 Line-Up:
Fox Stevenson – Maduk
Hiraeth – Jon Void – Lexurus
NCT – Riya – Telomic
Voicians – Whiney
Lackla – Phenikz – Rebko
Hosted by Fava & Mota
⏳ Timetable:
Room 1:
22:00 – 23:00 Rebko (Liquid set)
23:00 – 00:00 Hiraeth
00:00 – 01:15 NCT
01:15 – 02:30 Maduk
02:30 – 03:45 Fox Stevenson
03:45 – 05:00 Lexurus
05:00 -06:00 Jon Void
Room 2:
23:00 – 00:15 Lackla b2b Phenikz (Deep set)
00:15 – 01:30 Riya
01:30 – 02:45 Whiney
02:45 – 04:00 Telomic
04:00 – 05:00 Voicians
________________________________________________________________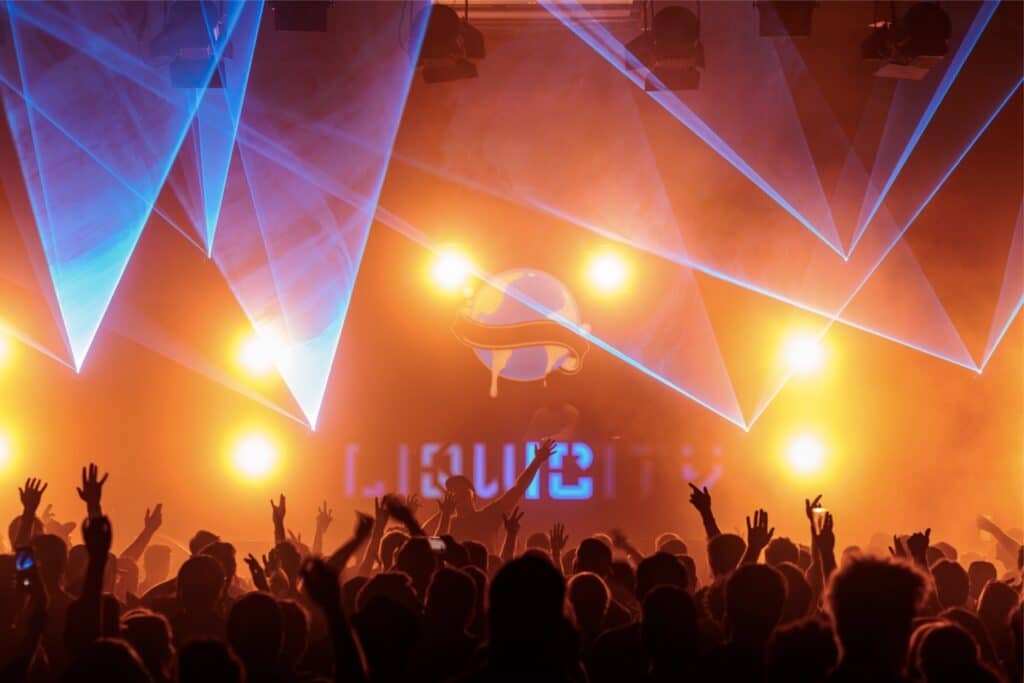 ________________________________________________________________
IMPORTANT INFO

🔥 This event is sold out. No tickets at the door. Please be safe and only buy second-hand tickets from a safe-swapping platform such as Ticketswap!
📲 You do not need to print your ticket. We can scan it from your phone.
🎫 If you deleted the ticket email, log in to the my.ticket.io portal. Alternatively, you can email [email protected]; within 5 minutes, you will automatically receive a link to your my.ticket.io portal to view your orders and download the tickets again. If this does not lead to a solution, please contact [email protected].
🔞 This is an 18+ event. Please make sure you bring a valid ID.
🧥 There is a cloakroom available on-site costing 3€.
🚪 Doors do not close. You can enter throughout the whole night. In = in, out = out.
🧢 Limited merchandise will be available at the merchandise stand.
🕹 Chillout, games & merchandise can be found in the Dreherei.
👂 Always take care of your ears! Quality reusable earplugs are available at the merchandise stand.
🍟🍻 There will be enough bars with alcoholic and non-alcoholic drinks and a snack bar (cash & card). There is also an ATM available inside.
🚬 Smoking is allowed in the outside area. There is a cigarette machine available inside the club.
🎒 Try not to bring any unnecessary items. This will help speed up entry for everyone and save space in the cloakroom / on the dancefloor.
🚫 Don't bring any of the following items: drugs, weapons, liquids, deodorants, writing equipment (markers, pens, fine liners, pencils etc.), food, perfumes, spray canisters, stickers, tape, etc.
🚗 🚋 🚲 Coming from all directions by car, please follow the green signs "Koelnmesse". The "Koelnmesse" signs can also be found on all city highways. From the trade fair or Cologne Deutz train station, please look for the "Bootshaus" sign. Parking spaces are available under the Zoobrücke. Alternatively, you can take the train to the "Deutz/Messe" station or "Deutz/Messeplatz". From there, you can take the bus to the Kölner Verkehrsbetriebe (line 150) to the final stop, "Thermalbad" – alternatively, you can walk about 10 minutes from the station to the club.

________________________________________________________________
🇬🇧 Good news! Liquicity is returning to Cologne in just a few months 🥰

On April 8th, the legendary Bootshaus transforms into our drum&bass dreamland featuring 2 rooms full of the finest selection of artists, a chillout & gaming area, merch stand & many more goodies you know and love from Liquicity events ✨

Tickets are now available right here: https://liquicity.ticket.io/ 🙌

So grab your rave crew, choose your most out of this world outfit and get ready to lift off into the Galaxy of Dreams!
See you on the other side

____________________________________________________________________________
🇩🇪 Gute Nachrichten! Liquicity kommt schon bald zurück nach Köln 🥰

Am 8. April verwandelt sich das gesamte Bootshaus in unser Drum & Bass Dreamland. 2 Floors gefüllt mit der feinsten Auswahl an Artists, einer Chillout & Gaming Area, Merchstand & vielen weiteren Goodies, die ihr von Liquicity Events kennt & liebt ✨

Tickets gibt es ab jetzt hier: https://liquicity.ticket.io/ 🙌

Also schnappt euch eure Rave Crew, legt euer am meisten out-of-this-world Outfit heraus und macht euch bereit in die Galaxy of Dreams abzuheben!

Wir sehen uns auf der anderen Seite 🚀