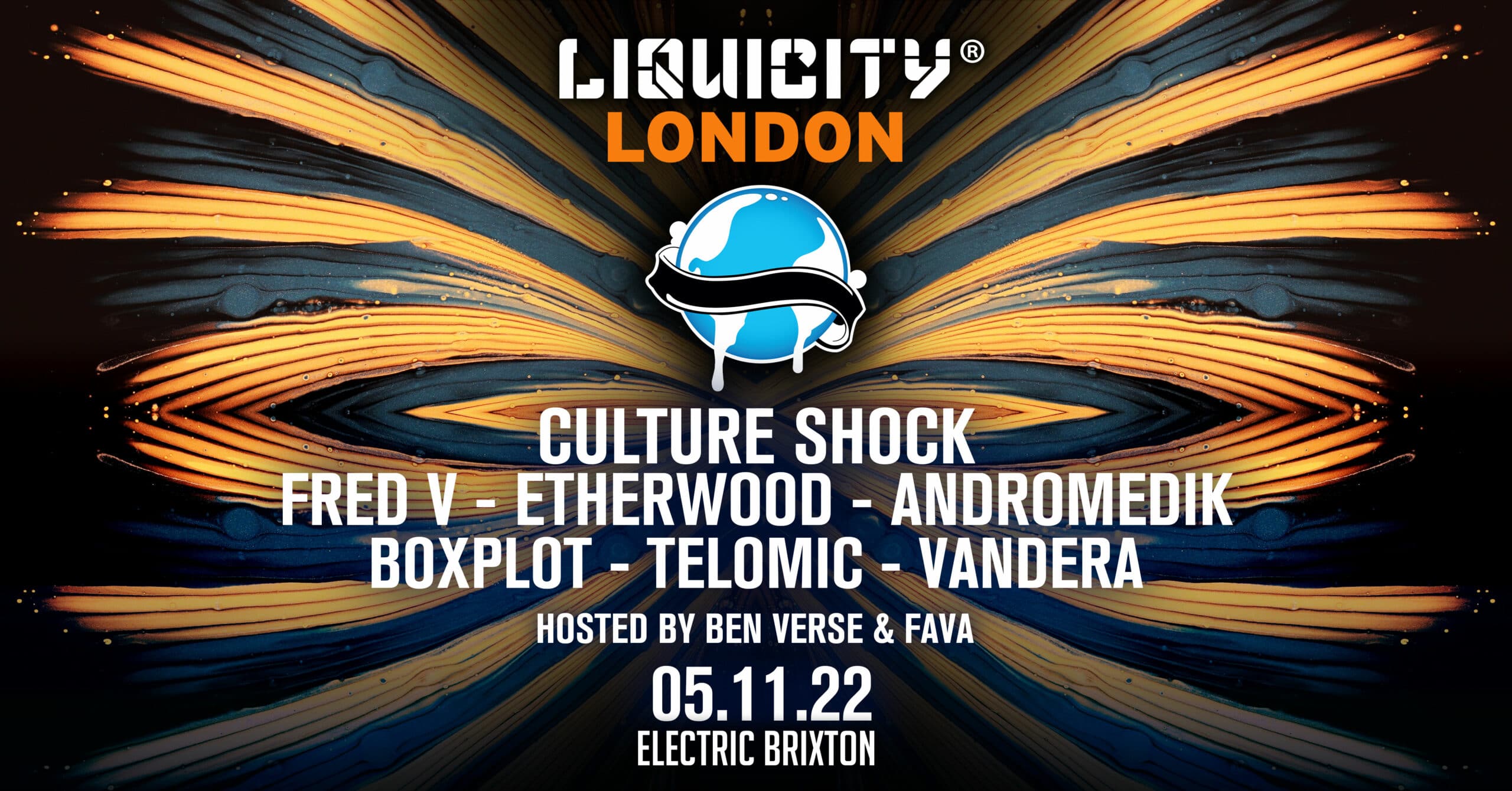 Liquicity London 2022
Saturday, 5 November 2022
A23, Brixton Hill, London SW2 1RJ, United Kingdom
Line-up
Culture Shock
Fred V – Etherwood – Andromedik
Boxplot – Telomic – Vandera
hosted by Ben Verse & Fava
Time: 23:00 – 06:00

Location: Electric Brixton

Age: 18+
Timetable:
23:00 – 00:00 Vandera
00:00 – 01:00 Telomic
01:00 – 02:00 Etherwood
02:00 – 03:00 Culture Shock
03:00 – 04:00 Andromedik
04:00 – 05:00 Fred V
05:00 – 06:00 Boxplot
________________________________
Hi Liquicity Family,
beyond excited to be crossing the pond again this November to bring you Liquicity London 2022 😍🔥
On Saturday, 5th of November, get ready for a night filled with drum&bass brought to Electric Brixton straight from the Galaxy of Dreams ✨
Tickets are on sale right now!
See you on the dancefloor!
Liquicity ❤️
_________________________________
Final info:
☝️ Only a handful of presale tickets left, get them via the button above.
👕 Due to Brexit related issues, there will be no merch available at this event.
⏳ Get there early! Security check can take a while so make sure to arrive on time.
❌ Don't bring unnecessary items such as large bags etc.
🚬 Smoking area located on the first floor, accessible via the balcony.
📲 You don't need to print your ticket, we can scan it from your phone.
🔞 This event is 18+. Please, be sure to bring a valid ID!
🔐 Cloakroom is available on the first floor, £3 per item (cash & card).
🚪 Doors don't close, you can enter at any time. In is in, out is out!
👂 Protect your ears. Earplugs are available for free at all the bars.
🍻 All bars accept cash & card.