LIQUICITY PRAGUE ENTRY CONDITIONS
COVID-19 ENTRY REQUIREMENTS

Visitors must meet one of the following conditions (QR-Code or written confirmation with signature & stamp):

1. Two weeks after the second dose of vaccination
2. Within 180 days of recovering from COVID-19
3. Negative antigen test not older than 2 days
4. Negative PCR test not older than 6 days
TICKETS AT THE DOOR
Limited tickets will be available at the door for 800 CZK. Cash or Card. If you don't have one yet, be sure to be early.
EVENT START
The event area opens at 21:00 and closes at 6:00 together with the performances. Visitors have to be 16+ to enter the venue. Visitors under the age of 16 will not be admitted to the complex. A valid prove of ID is mandatory for admittance. If leaving the premisses, the ticket looses validity and the visitor will not be re-admitted.

ZPT/P DISCOUNT
Visitors who can prove themselves with a ZTP / P card (or 3rd degree of disability) and a ticket to the event are allowed to take their assistant with them free of charge. This exception does not apply to visitors with a disability card (or degree II of disability).
ENTRY & ADMISSIONS
Visitors who have bought a ticket in advance will come to the so-called strapping tent for each sector. Avoid buying tickets from resellers as we cannot guarantee their validity – all tickets have unique barcodes that will be scanned and stored at the entrance. Reuse is not possible. We recommend that you come at 21:00 to avoid unnecessary queues, enjoy the local performers and don't miss the opportunity to buy Liquicity merchandise. ENTRY TO THE AREA WILL ONLY BE POSSIBLE WITH A FACE MASK COVERING BOTH THE MOUTH AND NOSE.
Admissions will open from 20:30. They are located at the entrance of the complex, together with the box office. Don't forget to bring your ID card, necessary for your identification at accreditations.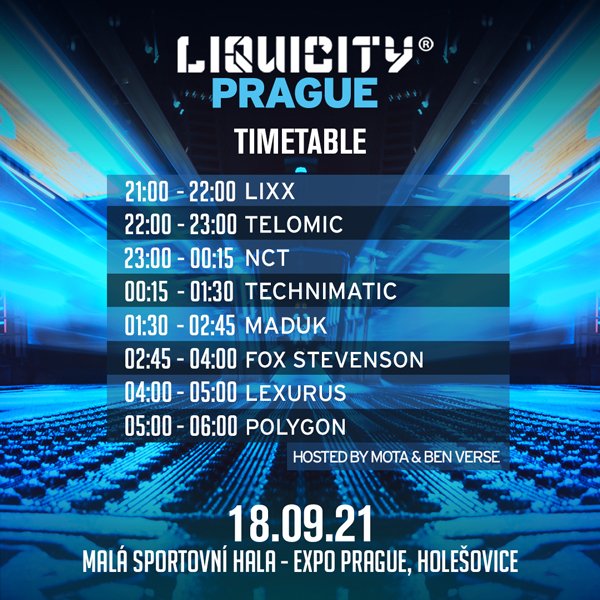 PAYMENTS IN THE AREA
Cash (Euro / Czech Crowns) or card will be accepted at the box office, bars and merchandise booth.
REFRESHMENTS
There will be plenty of bars with alcoholic and non-alcoholic drinks. Please note that there will be no food stalls at the event, so it is recommended to eat well before coming to the event.
LEAVING THE AREA
After leaving the premises, the ticket expires.
LOCKERS
A limited number of lockers will be available at the event venue for CZK 150/night (+ CZK 100 key deposit). There will be a cloakroom available as well for 40 czk/piece and 60 czk/backpack.
FIRST AID
Medical services will be present on site. Security and firefighters will also pass through the complex, ensuring the safety of everyone. Please report any problem to our security guard immediately.
MERCHANDISE
There will be a merchandise stand full of Liquicity merchandise at the event. If you would like to purchase merchandise at the event make sure to bring enough cash.
REUSABLE CUPS
In an effort to save the environment of unnecessary waste, a deposit of 50 CZK will be asked. When purchasing another drink, each cup will be replaced with a clean one. Cups can be returned at all the bars. Damaged or otherwise devalued cups cannot be redeemed.
SOUND SYSTEM
The venue will be equipped with a professional audio (PA) system from L'Acoustics. We recommend visitors to wear earplugs to protect their hearing. These will also be available at the merchandise stand.
PHOTO AND VIDEO
Photography and filming with cameras, camcorders and mobile phones is permitted. Recording with a professional technician is only possible by prior arrangement and approved accreditation. When using photos and recordings, it is always wished for to visibly mention where the shots are taken from.
SMOKING
Smoking is prohibited in the halls of the exhibition center in Holešovice – please respect it. Visitors will have the opportunity to go out into the fresh air during the entire event – an outdoor area near the chill out zone is reserved for this purpose.


PUBLIC TRANSPORT & PARKING
The fastest way to get to Výstaviště Holešovice is by metro and tram. The nearest metro station is "Nádraží Holešovice" on line "C" (red). After getting off the metro "Nádraží Holešovice", take tram number 6, 12, 17 or night lines 93, 94 for one stop to Výstaviště Holešovice. Then walk about 200 m across the exhibition grounds (between the Tipsport arena and the Průmyslový Palace) to the Small Sports Hall. A car park is located in the Exhibition Center for a flat fee for the whole night or in mixed parking zones of the nearby neighbourhood.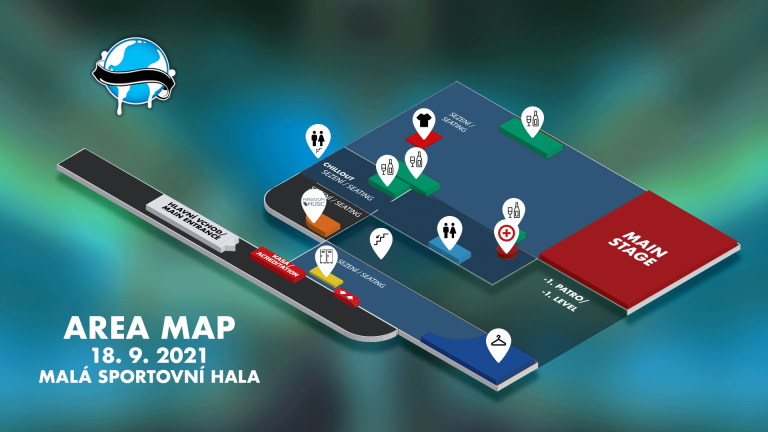 PROHIBITIONS & WARNINGS
It is forbidden to bring any drinks, weapons, drugs, pyrotechnics, laser pointers, aerosol sprays, cans, plastic bottles, camelbacks or any sharp objects that could endanger other visitors into the complex. Dealers who are caught selling illegal substances on the premises, will be handed over to the Czech police by the security guards. If you encounter someone selling illegal substances, please inform security.

Every visitor is obliged to undergo a security check for which we thank you in advance. Please avoid pushing during the queue, this will not speed up your entry.

Video teams will shoot during the event. Please be considerate of them and possibly see yourself in the Liquicity Prague Aftermovie.

Take care of your personal hygiene by washing your hands thoroughly and using disinfectant after using the lavatory.